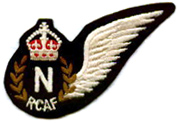 Flight Sergeant François Roland Pilon (R/90867) died during the early morning hours of April 17, 1943 when the four-engine Halifax II bomber he was flying in was shot down and crashed over the eastern Picardie region (Aisne) of northwestern France. On the night he died, he was the navigator of bomber BB-343 coded EQ-X of 408 Squadron, Royal Canadian Air Force. This was only his fourth operational trip, all of them while he was stationed at RAF Leaming Station (click here to learn more about Leeming Station). He had less than 20 hours of combat experience. In fact, the same was true of the rest of the crew with the exception of the pilot W.O. Joseph Jacques Alfred Guay who had flown 14 successful operational sorties and Air Gunner Sgt. Irving MacDonald who had only been on 2 sorties. Along with other aircrews of the 408 and 419 Squadrons of the RCAF and aircrews of the Royal Air Force, François' mission was to help drop more than 130,000 pounds of explosives and incendiaries on the Skoda armaments factory in the Czecheslovakian city of Pilsen. However, the raid took place under a full moon and disaster struck. With a complicated plan, confusion ensued. Tragedy was compounded. The target was missed and a record number of bomber crews were shot from the skies; 36 of 327 aircraft or 11 percent.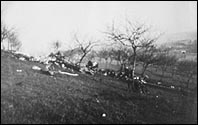 Peter W. Cunliffe of the U.K. has conducted extensive research into the Pilzen Raid and shared with us some of his findings regarding EQ-X: "French local authorities reported to the Ministry of the Interior (19/04/1943) that in the night of 16/17 April 1943 about 4h45 AM an a/c crashed in a meadow at a place named "le calvaire St Germain". At 7h00 AM, the bomber was still burning." François Roland's sister-in-law, Madame Marcelle Pilon née Dignard (follow this link to view the archive of documents she has so kindly allowed us to share), has preserved several documents relating to her husband's late brother, including a 1951 letter from Jacques Guay's brother Edgar who toured that part of northern France after the war. He met with several villagers from Lesquielles who witnessed the ferocious air battle in the early hours of that morning. According to them, EQ-X circled the valley with great difficulty in order to crash away from the village. Such was their respect for the airmen that the local population erected a monument to remember the fallen aviators at the crash site. (follow this link to view the monument erected at the EQ-X crash site in northern France). François Roland Pilon's supreme sacrifice is also remembered in his hometown of Rockland, Ontario (follow this link to view the memorial to those who fell in the Second World War from Rockland, Ontario).


François Roland Pilon's story begins far from the dark skies over Europe in the small franco-ontarian community of Rockland, in the Ottawa Valley. The son of Philias Pilon and Aurélie Bourgon (click here to view François Roland Pilon's genealogy back to France), he was from a family of 7 children. He was a graduate of the University of Ottawa and had begun to teach public school when he decided to enlist in 1941. Following his initial training, François Roland enrolled in Course No.39 given by No.4 Air Observer School at Crumlin, Ontario, located near London, Ontario. There he would learn the skills on which a bomber crew would depend to reach their target and more importantly return to base (follow this link to read the yearbook that was put together by the alumni of Course No.39). Today, François Pilon lies in the Liesse Community Cemetery along with his EQ-X comrades (click here to see a map of France showing the location of Liesse): W/O1 J. Guay (RCAF), Sgt H. Fill (RCAF), F/Sgt L. Haines (RCAF), Sgt R. Winter (RAF), F/Sgt I. MacDonald (RCAF) Sgt A. Gielty (RAF). Several other bomber crews lie in that same Commonwealth War Grave plot, including the uncle of Chuck Jonasson who kindly made photographs of the cemetery available to us (follow this link to view the Liesse cemetery and the grave of François Roland Pilon).


Three other Halifax bombers from 408 Squadron's 12 Halifaxes were also shot down that night. One (EQ-D) in northeastern France (Meuse), one (EQ-W) in the nearby Ardennes region of southeastern Belgium and one (EQ-R) in Germany. (Follow this link to learn more about the RCAF casualties of that evening's attack on Pilsen)
To learn more about these and other brave airmen of the Canadian 6 Group, RAF Bomber Command, follow this link.